You need to have the
Flash Player
installed and a browser with JavaScript support.
All Nighter (2012)
View
|
Buy this album
View complete albums
Click Here to purchase tickets to our Spring Show on April 12th at Overture Hall!
------------------
Welcome to the University of Wisconsin-Madison MadHatters website! The MadHatters are an internationally touring mens a cappella group based out of Madison, WI. Singing the tunes both past and present, their 16 vocalists and vocal percussionist will make you dance in your seat and hit repeat over and over again. If you like Wisconsin, red jackets and Y-chromosomes, then you are going to love the UW MadHatters!
Buy our new CD, All Nighter, by clicking on the image below!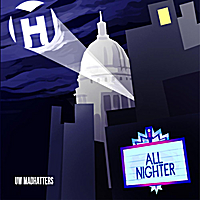 The time has arrived! Tickets for our big show on November 23rd at the Overture Center for the performing arts are on sale at http://overturecenter.com/production/uw-madhatters. Tickets are general admission, $15 for students and $20 for the public. Tickets will go fast so get them now!
[More]
It's that time of year again! Our fall concert this year will be held on Saturday, Nov. 23 in the Overture Center for the Performing Arts. Tickets will go on sale very soon, so stay tuned.
[More]
More madhatters news