You need to have the
Flash Player
installed and a browser with JavaScript support.
All Nighter (2012)
View
|
Buy this album
View complete albums
Thanks to everyone who made our April 19 show such an amazing success! Have a great summer, and look forward to our Fall 2013 show - Nov 23 in Capitol Theater!
Welcome to the University of Wisconsin-Madison MadHatters website! The MadHatters are an internationally touring mens a cappella group based out of Madison, WI. Singing the tunes both past and present, their 16 vocalists and vocal percussionist will make you dance in your seat and hit repeat over and over again. If you like Wisconsin, red jackets and Y-chromosomes, then you are going to love the UW MadHatters!
Buy our new CD, All Nighter, by clicking on the image below!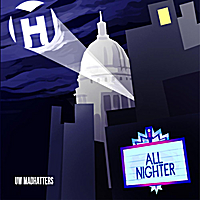 From the bottom of our hearts, thank you to everyone who came to see our show this weekend! We had a blast onstage. Oh, and did I mention we won a major award?
[More]
Have you bought your tickets yet?
[More]
More madhatters news